Y3E Lens
Y3EA is a three prism configuration for use with a single lamp giving superb distribution characteristics.
Applications
• Corridors
• Cashier & other service counters
• Task luminaires
• Lecture facilities
• Clinical bed-head luminaires
Description
Y3EA is a highly specialised lens comprising a three prism configuration arranged to create a unique control panel providing an unmatched asymmetric distribution with a peak intensity between 40? and 45?.
Y3EA is designed for use with a single lamp with the option to utilize two panels for twin lamp configurations.
Y3EA possesses superb distribution characteristics with efficiency values of nearly 60%.
Quality
Acrylic material used in Y3EA meets or exceeds recognised standards.
Under normal interior conditions these lenses will perform satisfactorily for 20 years.
Y3EA is manufactured from 100% Acrylic (Polymethylmethacrylate). Flammability Rating-UL94 HB.
Dimensions
Thickness
Y3EA is 4mm thick.
Standard Sizes
Generally used in single lamp luminaires with openings of approximately 200mm.
The diagram gives an indication of correct configuration of lamp – luminaire – Y3EA Lens.
Alternative configurations are possible providing differing angles of maximum intensity.
Please note that correct orientation and position of prisms is essential to obtain optimum performance.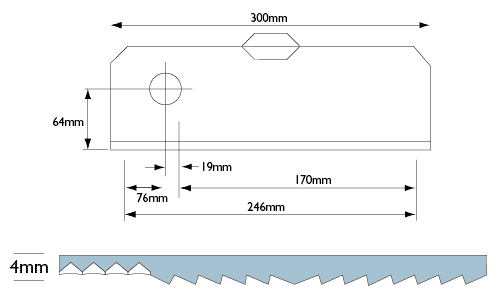 Photometric Data